JOHNSON & ROUNTREE PREMIUM THIRD-PARTY COLLECTION SERVICES INCLUDE BUT ARE NOT LIMITED TO:
SKIPTRACING
Utilizing state-of-the-art technology allows Johnson & Rountree to locate insureds regardless of relocation, changed phone numbers, or other obstacles that have made them otherwise unreachable.
ASSET LOCATOR SERVICE
This service, included in our contingency fee, provides location of an insured's available funds in order to quickly determine what method of payment is possible.
FAST TURNAROUND
Insureds are often contacted the same day your file is received. Files may be sent to Johnson & Rountree via fax, email, EDI, secure internet form or regular mail. Recovered monies are remitted bi-weekly, overnight if requested, or via EFT with prior arrangement.
ON-SITE ATTORNEY ACCESS
Johnson & Rountree attorneys are available to litigate on your behalf after all other resources have been exhausted.
IMMEDIATE RESPONSE
Johnson & Rountree understands the value of your time. Our professional staff is committed to handling your inquiries promptly, and our secure online system is updated daily.
MAXIMUM RECOVERY
All collectors and attorneys employed by Johnson & Rountree have been specifically trained to handle insurance matters. In order to ensure the highest possible rate of recovery, we limit the number of case files assigned to each collector.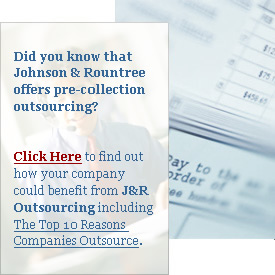 SAME DAY VISA & MASTERCARD
Credit card transactions made via telephone or submitted through our secure online payment server are always processed immediately.
SAME DAY ELECTRONIC CHECK
Electronic check capabilities via telephone and secure online payment server allow funds to be verified immediately, and eliminate the excuse "The check is in the mail."
COMPREHENSIVE REPORTING
At-a-glance compiled reporting on all accounts since inception, and an easy-to-read individual Status Report with specific information about each of your files is provided monthly via email or regular mail. Additionally, you may use our secure online server to view up-to-date information on any file.
PROFESSIONALISM
Johnson & Rountree Premium sees itself as an extension of its clients, and therefore exercises the utmost care and discretion while pursuing claims. Maintaining the professional reputation and integrity of each client is of paramount importance.